Corporate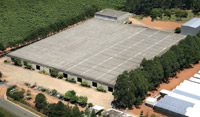 Located in Mogi-Mirim city, countryside of Sao Paulo state, Vidro Real was founded in March, 2004, with about 20 employees within an area of 1.000m2.
During this period, our production capacity was around 5.000m2 of glass mosaic covering per month, with just on line of product.
We made our debut on the market during one of the biggest fairs of Brazilian's civil building, the FEICON, wich occurs annually in São Paulo. This was the open door for the company to join another important national fairs, like Fia Flora Expo Garden, Expolazer and Revestir. Video Real had also participated on the biggest American's fair of coverings, the great Coverings. We also sell to another countries, like: Chile, Mexico, Peru, Argentina and Angola.
By the end of 2005 we opened our comercial office in São Paulo, located on the eventful neighborhood of Vila Madalena. Two years later, we inaugurated on the same address, our show-room, to receive our clients with more confort and quality.
Still in 2007, we released a new mark, the Vitrale Revestimentos. Today, we have eight different product lines, giving our customers much more liberty of choice and allowing them to use all their imagination and criativity with products on their projects.
In 2011, we released a new mark, the Van Gogh Revestimentos. Which attends the home centers in all Brazilian territory.
Nowadays, our company have about 120 employees within an area of 6.000m2. On this new building, we focus on the technology contribution, with frequency investments in new and more efficient machinery, to develop our products with more quality and technology. That said, today we count with a production capacity of around 100.00m2 of glass mosaic covering per month.
This way, with heavy investments in technology and human capital, Vidro Real is building a solid history of growth and conquests, bringing news and trends with design and quality to your clients.